BIOGRAPHY
The artist whose professional life would become a sort of European costume ball grew up as an all-American boy. Among the emotional attitudes taken on by George Frederick Takis during his childhood and youth in the USA were the earnestness of the wearer of cowboy shirts, the pride of the Mickey Mouse Club member, the zeal of the Boy Scout and the diligence of the high school student. He threw frisbees and played golf. Noisily he proclaimed his enthusiasm for the baseball team of his home city, the Atlanta Braves.

At the age of eighteen, he worked for an Atlanta institution rich in tradition, the Coca-Cola Company, and prepared research reports on American youth culture. During a trip through the western USA the young man, at that time still long-haired, hiked down the Grand Canyon. He studied French and English history and literature at Harvard University. A semester in Paris opened up new horizons for George Frederick Takis and motivated him, after finishing his studies magna cum laude, to return to Europe, this time to Berlin.


The divided city was an inducement to cultivate friendships on both sides of the wall and to witness contradictions in the German mentality. Berlin also provided George Frederick Takis with a new perspective on his native land through a position as a teacher of mathematics at the barracks of the United States Army, where he instructed soldiers from all regions of the USA. He further supported himself as an actor in German television films. At Berlin's Free University, besides perfecting his German, he also acquired a knowledge of Latin and Italian, studied musicology and, with the help of an Airlift Memorial Scholarship, began a dissertation on Virgil's Aeneis.

It was then that singing, however, got the upper hand. Years of private vocal training began to bear fruit. As an oratorio singer, he took on solo roles in Berlin's churches and concert halls. As an entertainer, he sang at galas and appeared in television shows. He came to value the interpersonal contact achieved through singing as something quite precious.


His prediliction for crossing borders and discovering new contexts led George Frederick Takis to the question as to where a stage actually begins and where it ends. Did not the facial expressions and body movements of his listeners represent active participation in his singing, an involvement which was capable of being extended? The human jukebox was a first interactive mode of performance. His yearlong collaboration with the Scharlatan theater taught the singer an acting style which generates improvised comedy in ongoing interplay with the onlookers. For his solo performances, he developed variously costumed figures that unfold their music and humor amid the audience.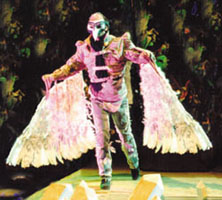 The urge towards self-development continues to extend his field of activity. As a journalist he writes reviews of opera, ballet and theater as well as interviewing leading figures in Berlin's cultural life. He plays piano and at Berlin's University of the Arts deepens his understanding of musical theory. His love for foreign languages finds fulfillment in English translations of German, French and Italian texts commissioned by museums and publishing houses throughout Europe. And with Transcendental Meditation he experiences the perpetual stillness which lies behind all transformation as the source of human creativity – that stillness which allows him to realize the personal credo he once expressed in Latin:



Dat cantor de corde benigno lumen amoenum
perpetuo nascens laetitiam pariet.

(From a benevolent heart the singer gives forth a lovely light;
constantly reborn, he himself gives birth to joy.)